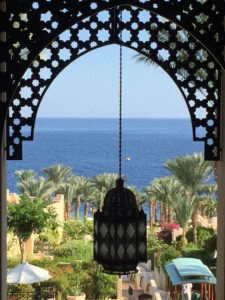 I am just back from a divine few days staying at the stunning Four Seasons Resort in Sharm El Sheikh.
I first visited the resort in March 2008 and was last there in November 2015 when the Russian plane was shot down – it was pretty scary to be honest as all flights were suspended and we had to stay as few extra days waiting for Monarch Airlines to send planes to get us out. Since then the UK have not allowed any direct flights to Sharm. Apparently David Cameron was about to before Brexit broke and then he resigned last year so it never happened. The incident effected the tourism in Sharm greatly but the owners of the Four Seasons kept the hotel open and I was so happy to go back and find that their high standards had not slipped, so many of the same staff where still there, and most of the things as I remember unchanged.
The flights over where with Turkish Airways from LHR leaving at 4.30pm. We stopped over in Istanbul for 2 hours transit and our luggage went all the way through. By the time we arrived in Sharm it was 4am with the time change and we were pretty exhausted. Security into the hotel was strict but our room was made up perfectly. I appreciate the handy walk in closet, big bathroom with dual basins and a yummy big bed that we dived into to get some sleep at 6am. Being me I emailed the hotel before I came to advise them about my bedding requirements and dietary needs so everything was set up just as I requested 😉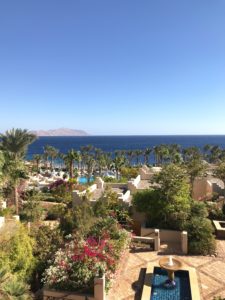 Midday we woke and pulled the curtains to see not a cloud in the sky and the sea straight ahead over the resort – guest rooms clustered like a hillside village, with a train to take you from the top to the pool, set within 2000 palm trees against the shimmering waters of the Red Sea. You can see Tiran Island in the distance…it really is stunning. Our room had a lovely balcony which was great to relax and soak up the sun instantly. Two months of being in London I was truly ready for some Vitamin Sea and D!
As directed by myself room service kindly delivered my specific 'belated' breakfast to the room for me to enjoy on the balcony in the sun. This happened every morning which I love rather than wasting valuable sunbathing time having to sit in the restaurant in the main hotel and picking from the buffet.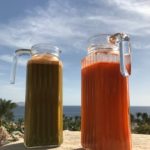 The staff could not be more accommodating and willing to please. Especially the chefs and room service. My needs are rather particular and they got it spot on every time delivering delicious juices, grilled veggies and the best Moutabel I have ever had! (incase you don't know what Moutabel is – it's a Middle Eastern cold mezze dish of simply charcoal roasted aubergine mixed with tahini, lemon juice and salt to taste – vegan, rich in minerals, fab source of calcium and B vitamins and good liver detoxifier – my favourite!)
The weather was surprisingly warm in the sun but would loose it's heat being winter time around 3pm. My days were spent swimming in the sea with the fish off the coral reef whilst listening to my music and relaxing on the beach. The resort is kept exquisitely – stunning gardens and super clean everywhere. Its a bit like a maze to find your way around from top to bottom but designed so well. There are different levels to lounge by the ocean according to what you prefer with ample sized beds or cabanas.
The sea is so clear and the temperature was perfect around 25 degrees.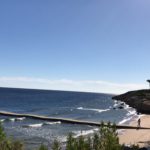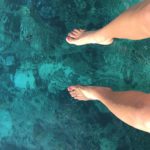 This made my morning and evening exercise swim for an hour delightful. The staff at the beach are always around if you need something plus offer complimentary sunglass and phone cleaning, snacks and cold towels. With a coral reef from the sea edge you have to walk along the pontoon before you can swim in the swim beyond the reef. Its the ideal location for snorkelling and diving fans. next to the beach bar the resort has its own dive centre which is world renowned so there is lots to do should you be feeling energetic! The lifeguards on the pontoon are wonderful – so friendly especially Mohammed Zakaria who has become a dear friend of mind over the years. They are highly experienced in taking photos too…..which comes in handy!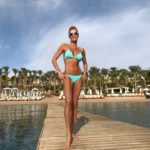 The resort was blissfully quiet and the perfect location for some yoga and meditation.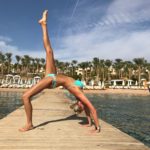 I am definitely happiest when at one with nature like this. The stresses of London life all disappear, my parasympathetic nervous system takes over letting my body rest and digest and my skin starts to glow again. Nature, earthing (grounding), Vitamin D from the sun, natural local nutrition and being grateful really is more powerful than any chemical medication from your doctor for any aliment.
As the sun starts to set it is a good time to pop to the Spa for a massage or other indulgent treatment.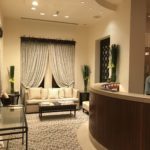 The gym is there too equipped with all the necessary machines for a great workout.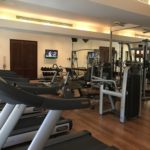 Trainers are on hand should you need them and the spa pool is great for a dip post workout or treatment – beware though it is super hot! The relaxation room is a favourite of mind post dinner for some digestive Ginger and Honey tea to boost the immune system and a heated cherry stone neck pillow to get in the mood for bed.
For dinner there is a choice of three restaurants – in high season and weather permitting five but this visit the Reef Grill and Sails were closed. The Middle Eastern restaurant Arabesqe, where the fabulous Head Chef Mohammed rules, serves delicious local delicacies along with superior quality meat and the freshest seafood.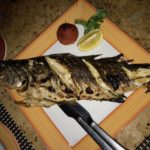 Their buffet is dangerous!….too much goodness and I always over indulge! All the staff go that extra mile to ensure you have whatever your heart desires.
On our last night we ate in the authentic Italian restaurant called Il Frantoio which is also delicious and set in the courtyard around a real wood fire – perfectly romantic. To burn off some of the food we liked to play snooker and table tennis in the games room or simply relax under the stars in the Nafoura Lounge watching the belly dancers do their thing.
For sure the indirect flights from London are not ideal – in fact our return journey was no fun – leaving Sharm at 3.45am, transiting in Istanbul followed by the bumpiest flight home ever and arriving in snowy chilly London at 10am only to have to wait 2 hours for my bag to come on the carousel.
Still it was worth it. All in all the trip was too short but I am so blessed to have had any time there at all. I cannot recommend the Four Seasons Sharm El Sheikh enough….there is something for everyone and the staff will ensure that your stay is truly memorable. For me I was able to totally relax, swim with the fish, eat like the healthiest Queen alive and leave sun kissed, full of Vit D and refreshed. Cant wait to go back soon!
To book contact:
Ahmed Sami
Director of Rooms
Four Seasons Sharm el Sheikh Egypt