The Champneys name has been synonymous with health and wellbeing since the opening of its doors in 1925; and is the UK's first original health spa. Champneys perform more facials each year than any other UK spa, and so it seems only fitting to launch their own new Spa skincare range for people to use at home.
 In July Champneys launched this new Natural skincare range with the help of Liz Chamberlayne.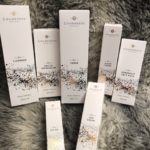 This is Champneys first range with no toxic nasties, which many commercial high street brands of skincare still contain these days that can disrupt our endocrine system and more. It is VEGAN, CRUELTY FREE, SLS FREE, SYNTHETIC FRAGRANCE FREE and PARABEN FREE…..what is not to love about that!?!
 Everything is hand made in the UK and features the finest selected English essential oils including ROSE, BERGAMOT, LAVENDER, ROSEMARY and BLUE-CHAMOMILE……stunning.
 It's a seven piece, all vegan collection, which I have been trialling myself at home for the last few months and am absolutely loving the simplicity yet effectiveness of all the products. Packaging is simple: white, silver and gold – very chic with easy to use pump bottles or squeezy tubes.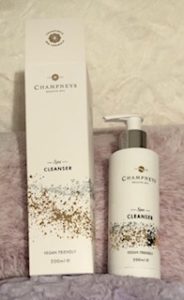 CLEANSER

This is rich but not clogging or over powering. The bergamot and rose infusion make it feel luxurious on the skin and protect the skin from UV damage and help heal scarring.  The sweet almond draws out impurities from deep within the skin leaving it feeling deeply clean. Massage on with warm palms then remove with dampened cotton pads.
TONER
Following the cleanser The witch hazel, chamomile, bergamot and rose water in this is divine – leaves the skin squeaky clean yet hydrated and ready for cream. It's very soothing and calming helping to reduce any redness.
DAY CREAM
I have noticed my skin is less irritated and red, more even and plush looking. The day cream goes on light, is quickly absorbed and has a mattifying effect. Perfect for under makeup. The aroma of rose and bergamot is uplifting and in perfect balance.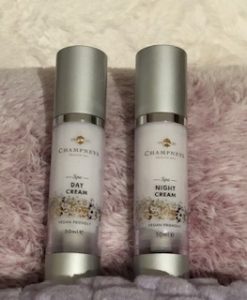 NIGHT CREAM
In contrast to the day cream, the night cream has the smell of rosemary and lavender to calm the skin, relax the body and induce sleep vibes. It promotes overnight cell renewal so you wake looking fresher.
FACIAL EXFOLIATOR
This is creamy exfoliator with small particles to remove the dead skin and unclog the pores. I use it 3 times a week for a deep cleanse. Skin is left smooth and clean.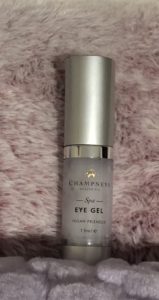 EYE GEL
I loved this……goes on cool even if not kept in the fridge so super refreshing and uplifting. It is great for tightening the delicate skin area around the eyes and the chamomile was very soothing after a long day with full face of makeup
OVERNIGHT FACE MASK
This light mask is easily absorbed and uber hydrating whilst you sleep. you remove with warm water int he morning. Lavender and rosemary heal and calm the skin to reveal an even skin tone and blemish free skin in the morning.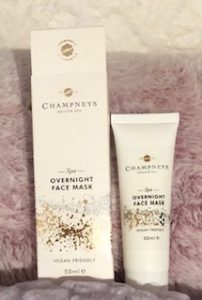 The wonderful thing is this range being so natural is suitable for all skin types and prices are very affordable.
It has been created by therapists for therapists at Champneys spas, and is available for spa guests to purchase across all Champneys Spa boutiques (Tring, Forest Mere, Springs, Henlow and on the Marella Cruise Ship), Champneys six City Spas, and online at Champneys.com.
Be sure to give it go and let me know how you get on.