Apple Cider Vinegar with the Mother is a well know tonic in the health and wellness industry. I add it to my warm lemon drink every morning and if I am going to eat a heavy meat meal then I drink a teaspoon in water 15 minutes before to get my digestive enzymes going.
Bragg Live Foods, Inc. is the result of a life time of crusading the word of good Health worldwide since 1912. Paul C. Bragg, originator of Health Food Stores in America, founded the company, now run by his daughter Patricia Bragg, N.D., Ph.D., who continues to spread the gospel of health by providing natural healthy products, and a library of self-help books. Here in London it is being distributed by Omnivita
Here are 6 health benefits of apple cider vinegar that are supported by scientific research…..
High in Acetic Acid, With Potent Biological Effects. …
Can Kill Many Types of Harmful Bacteria. …
Lowers Blood Sugar Levels and Fights Diabetes. …
Helps You Lose Weight and Reduces Belly Fat. ..
Lowers Cholesterol and Improves Heart Health…
May have protective effects against cancer….
Apple Cider Vinegar, Organic, "With The Mother" Raw – Unfiltered – Aged in Wood
Made from whole organic apples, aged in wood, Bragg's Apple Cider Vinegar is raw, unfiltered, undiluted and contains no preservatives! Hippocrates, the Father of Medicine, in 400 BC treated his patients with natural apple cider vinegar for it's powerful cleansing, healing and germ fighting qualities.
Don't drink it straight up! Instead, you should dilute it. Add one tablespoons (at most 2) of vinegar to a glass of water. … To be safe, drink the apple cider vinegar on an empty stomach. Also great to add to sauces, soups, dressings and so much more.
The newest addition is the Organic Apple Cider Vinegar & Honey Blend  -Use to make Bragg Organic Apple Cider Vinegar & Honey Drink or use as a delicious topping over cereals, fresh fruits, yogurt, salads or use as a marinade or for stir-fries and other recipes – 100% natural, anti fungal, anti bacterial and greta for gut health.
Bragg Organic Apple Cider Vinegar Drinks (All Gluten Free & Non-GMO Certified)
Now you can enjoy Bragg Organic Apple Cider Vinegar in a variety of refreshing drink flavors.
Available in 16 oz. glass bottles and I love them! So pleased you have brought them from the USA as I have been drinking them on my trips there for that last few years (as you can see in my Instagram posts!) – one bottle a day. Super good for digestive health, not to mention less than 5 calories a bottle! Flavours include:
Organic Apple Cider Vinegar Drink Ginger Spice – definitely my favourite, naturally set with a zing it goes down super easy and feels great knowing your gut is happy!
Organic Apple Cider With Apple Cinnamon – cleansing, restorative and energising properties, beneficial for a healthy lifestyle. Made with pure apple juice and cinnamon Naturally sweetened using stevia Delicious and healthy A convenient energy boost Pre-mixed for your convenience
Organic Apple Cider Vinegar with Pomegranate Goji Berry is packed full of flavour and healthy nutrients to ensure that you get the perfect start to the day. Both delicious and refreshing, this drink will ensure that you get the perfect health boost any time of the day.
Organic Apple Cider Vinegar Drink Grape-Acai – Made with acai and concord grape juice great for those who with a sweet tooth.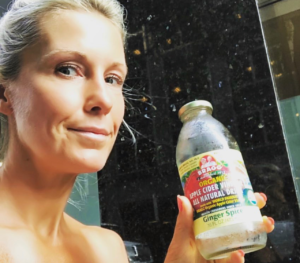 Liquid Aminos –  The Healthy Soy Sauce Substitute…. A liquid protein concentrate derived from natural soybeans, Bragg liquid aminos are a healthy, gluten-free alternative to soy sauce and tamari that will liven up all kinds of savoury dishes. It is a naturally occurring source of 16 of the amino acids we need to keep our bodies functioning properly. Liquid aminos are certified non-GMO and contain both the essential and non-essential amino acids that are necessary to promote health and wellness.
Sprinkle All Natural Herb & Spice – Organic Herb and Spice Seasoning brought to you from Bragg First formulated 50 years ago, Bragg Sprinkle All Natural Herb and Spice Seasoning is a favourite of Paul C. Bragg himself. Just a sprinkle of this natural and gluten-free blend of tasty herbs and spices adds bursts of flavour to all kinds of meals. Bragg Sprinkle All Natural Herb and Spice Seasoning features a variety of herbs and spices, including kelp, tarragon, oregano and turmeric….my new kitchen favourite!
Love everything in the range so make sure you try the products and see how your health and well-being can be improved.