I am going to let you in on one of my best kept secrets!
Her name is SHANTI – a delightful little Sri Lankan lady living in London with healing hands. Her father was a famous healer in their town when she was growing up and he taught her everything.  She comes to your house, with her foldaway massage bed and delivers a fabulous bespoke AYURVEDIC MASSAGE.
Sunday is often a day we pamper ourselves and yesterday was no exception for me. As you know I workout every day but over the last few days my strength training had left my shoulders, inner thighs and lower back crying out for some massage love. So I called SHANTI.
11am she arrived as requested with her bed which I set up in my room. I cover the bed with my own towels and sheets – something clean and soft that I don't mind getting oils on.  Then I set my music to play Instrumental Love Songs – sometimes I pick Spa Music on Spotify – depends on how I feel! Then lie face down and let the magic begin.
You can tell Shanti your specific ailments and areas of discomfort so she will tailor make her treatment for your needs. The Ayurvedic massage strokes vary from superficial to deep and follow the flow of energy channels, nerve pathways and hair growth. There are three types of movements – persuasive (pinching or kneading the small muscles with the thumb and forefinger), passive (delicate stroking) and active (strong pressure).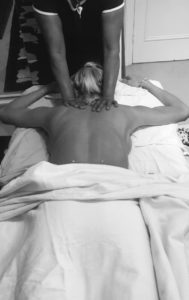 Usually we start with my back and she uses 100% pure extra virgin coconut oil on me. I love the smell of coconut oil: reminiscent of holidays by the sea. I find it calming and soothing on my skin.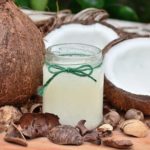 It works well as a moisturizer and conditioner, absorbing quickly and is non-greasy. At room temperature, coconut is a solid, but it quickly melts when it comes into contact with Shanti's warm hands. . Coconut oil contains three unique fatty acids that are responsible for its numerous health benefits: Lauric acid, Capric acid & Caprylic acid. These are some of the rarest substances found in nature and give it antiviral, anti-micorbial, and antibacterial properties. In addition, coconut oil contains linoleic acid, oleic acid, phenolic acid, myristic acid, Vitamin E, Vitamin K, and iron. You can add a couple of drops of lavender oil and peppermint oil to help heal sore muscles, and stimulate mindful relaxation.
Shanti is happy to use whatever oil you prefer. On my shoulder she massaged in some extra goodness with her – Ayurvedic Healing Balm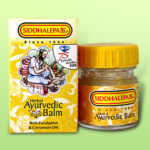 – 100% natural formulated to penetrate deep into my muscles and joints for relief. The balm, from her native Sri Lanka, consists of ceylon cinnamon oil, camphor oil, menthol, citronella oil, cineole, pinene, etc and gives me notes of fresh lemon. Another good alternative is Chinese White Flower Oil which i use nightly!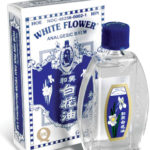 After my back is loose and nourished Shanti moves to my legs, going deep into my inner thighs and calf muscles. I experience pain in areas of mass tension when she starts but as she reads my body map of aches, pains, lumps and bumps her touch helps me let go. I find the whole treatment rather spiritual and emotionally cathartic as my cortisol levels drop, stress fades away and my para-sympathic nervous system is activated. In Ayurveda they say that there are channels (srotas) which transport fluids, and that thee channels can be opened up by massage treatment using oils, which in the long term will help prevent disease. For sure this is true as Shanti's stokes stimulate my lymphatic drainage, circulation and Qi allowing them to flow more freely.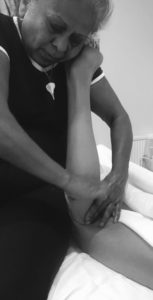 Before I turn over for arms, hands and front of the legs, Shanti takes a seat at the top end of the bed and bestows her Signature Head Massage on me – DIVINE – I love this – it is so invigorating yet relaxing. I could have this alone for an hour! The a technique is unique to Shanti and she claims it will help your hair grow long and strong and get blood pumping around the body again.
When Shanti gets to my feet I really unwind. She is an expert in reflexology and knows the areas reflecting the body's organs thus maximising the wellbeing benefits of my whole treatment. The theory is that reflexology helps the body to restore its balance naturally.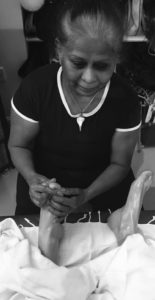 Usually, after a treatment tension is reduced, you sleep better and find your mood has improved. Personally I find it really helps with my digestion and to finish off the hour I ask her to massage my stomach. Not everyone likes this but I do! It is not advised if you have a 'full food' tummy or are pregnant. Otherwise the rewards of a good abdominal massage are: it helps to tone and strengthen the muscles located in that area, alleviates gas, stimulates your digestive system, which can help alleviate constipation and release that "knot in the gut" feeling that is associated with stress and anxiety.
After a good hour of holistic treatment I was ready to enjoy the rest of Sunday floating on a cloud!
Shanti has been coming to us since March 2016 and I cannot recommend her enough.
You can have a whole body massage, just reflexology, just head massage: whatever combination you like for whatever period of time you can allow.
Please call her direct, telling her PureJo sent you! Shanti's mobile is +44 (0) 7533 643403
She is based in the Kensington, London area so depending on where you are located you may have to pay her travel expenses. One hour is usually charged at £65 and worth every penny! Get dialling now!