A quick and easy yet impressive cheesecake for all the vegans out there. cheese free! It is very versatile as you can use whatever nuts you want for the base and berries you like for the filling.
Base:
1 tbsp water
50g pitted dates
100g chestnuts / activated almonds / activated walnuts or a mix as you wish!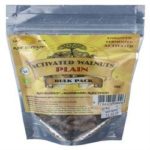 Cheesecake filling:
200g raw cashews
Pinch of pink salt
1/2 lemon juiced
2 tbsp Erythritol
100g of full fat coconut fat (the topping from the can of coconut milk – that is the thick stuff!)
75g frozen blueberries
METHOD:
In preparation get a cheesecake tin or flan dish plus soak the raw cashew nuts over night in water and pinch of pink salt to activate them.
Make the base: put nuts and dates into a food processor and blend into crumbs. Add water and blitz till sticky.
Grease the tin or dish with a bit of coconut oil then place the nut mix into the base and press down firmly.
Drain the cashews and place into a food processor. Add lemon juice, sweetener & coconut fat blending until smooth. This will take approx 5 minutes to resemble cheesecake consistency.
Fill the base will half that mixture then add a handful of frozen blueberries randomly.
Pour the rest of the filling on the top.
Place 50g of the frozen berries left in a pan and heat. mash with a fork then drizzle over the cake.
Freeze for 3 hours
Remove from tin and serve.