So last night was Date night!
My cowboy has been wanting to go to Jean-Georges since it opened in London…always keen to try new restaurants we dressed up and off we went…. expectations were high considering the fame of this French chef and having a number of 3 and 4 star successes worldwide.
That feeling of walking into a posh hotel always makes me smile 
Instantly we were greeted by a smiling maître d' who showed us to our table and gave us the menus.
The room is elegantly funky looking with floor to ceiling windows and cozy seating done in non-offending neutral colours.
It was half full at 7pm and the lighting was quite bright…I felt a bit uncomfortable, as the sofa banquet style seat we were sharing was rather low and with my long legs my knees touched the table underneath. Within 2 minutes the manager came over and asked us if we were happy with the table? Would we like another one as he could see we were too tall for the arrangement!
To our left I spotted a high table with high chairs – perfect – always my table of choice to be honest so my body feels more relaxed and the food digests easier rather than being slumped over in a small seat with my knees into my ears!
So off we moved…the lighting there was much better there – more subtle and romantic. Only issue was it was right next to the tills and a serving areas so all night there was the hustle and bustle of waiters coming and going…still we preferred it to the main dining area.
Asked if we wanted a champagne as an aperitif we declined – I don't drink so asked if they had any fresh juiced – surprised to hear they had a selection of 3 I chose the Carrot with Ginger and asked them to add some lemon juice (always do this FYI as it lowers the GI of the drink! – not such a sugar rush for the body!)
Cowboy ordered a red wine which he said was superb – the wine list apparently is quiet extensive and reasonably priced for a London hotel. My juice was good but most likely not freshly done to order which is always best to receive maximum benefits from the nutrients. I drank that all before my meal as during I try not to drink anything and let the food get digested properly by my stomach and enzymes.
Our waiter was just charming and well versed on the eclectic menu despite being quite new to the team.
For starters I had 'melt in the mouth' tuna tartar with avocado and radish – nice and simple with exquisitely fresh produce that the flavors really shone through. There was a spicy ginger dressing, which I had on the side using sparkingly as it gave quite a punch! This highlighted Jean-Georges' experiences of the Far East and his signature use of South-east Asian flavours.
Cowboy had the Crispy Salmon Sushi which we liked but said had too much rice eating really only the slices of salmon on the top!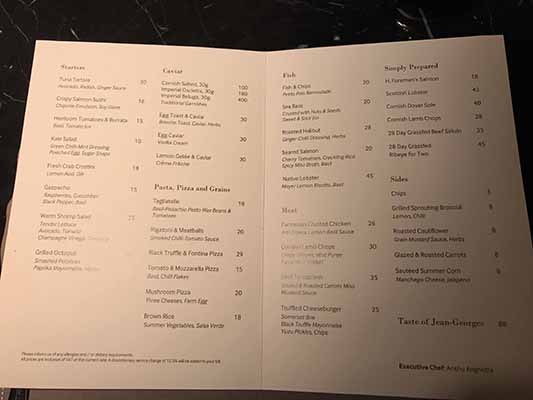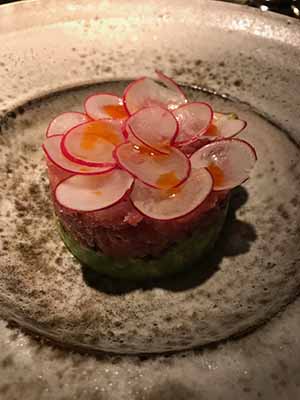 Main Course I ordered the halibut which apparently would normally come with mash potato and broccoli but not eating either of these for intolerance reasons they happily brought it for me with some deliciously sweet and citrus roasted carrots and some pardon peppers. The halibut was good and meaty but the ginger-chili dressing was not for me – had olives in it I think!
Cowboy devoured the signature Black Truffle and Fontina Pizza! Carbing it up! It did look very appealing but no way I could taste that!
To accompany our dishes we also had Roasted Cauliflower, which I have to say, was the highlight of the meal for me! Not just in presentation (Looks like a brain which is rather apt – Veggies are Brain Food!) but it was roasted to perfection with a delicious mustard grain sauce. YUM YUM!
You could really tell that the quality of the ingredients is utmost for Jean-Georges. Everything so simple, clean, pure…. farm to table, fresh from the market food which is just how it should be. I was expecting something a lot fancier but so pleased it came as it did. Not rocket science that is for sure – just-good hearty food – nourishing for the body.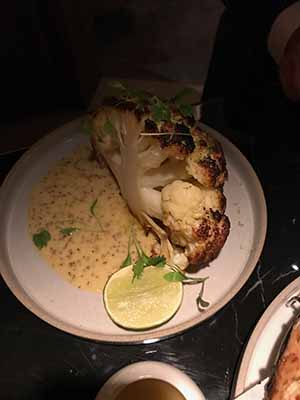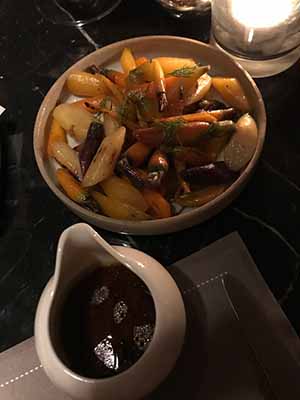 I never normally eat dessert – sugar and dairy are a minefield for acne sufferers! But After Eight on the menu caught my eye – as a kid I grew up with after eight mints after dinner with my mum and dad – oooohhhh taking one fresh from the fridge – first bite you crack the chocolate and then enter into the gooey peppermint center – how do they do it!?! So curiosity got the better of me as we ordered it to see how it could possibly compare.
Unfortunately our waiter said he had never tried it, which was a bit shocking – how can he sell it if he hasn't tried it?! Anyways the divine spectacle arrived and the dark chocolate in combo with the minty sorbet caused some serious nostalgia! Having a few spoons I let Cowboy eat the rest.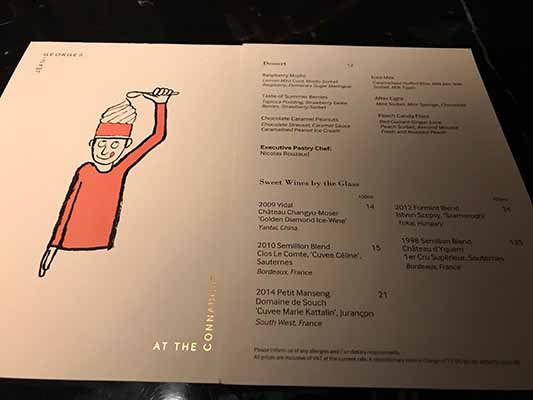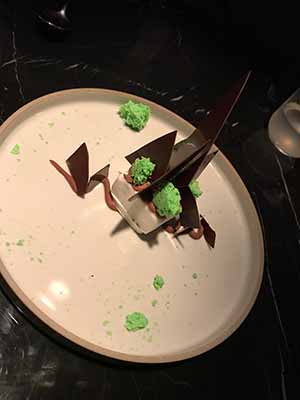 Overall the evening was delightful and the food delicious, although my main a bit too dry and bland for my preference but that maybe because I couldn't have what JG had designed to go with it so! For the price it was reasonable but the highlight was definitely the cauliflower!
Would I go back….?…yes but more for a casual lunch. The new autumn menu is coming soon apparently so lets see what is on that!