Who doesn't love chocolate – especially at Christmas and Easter!
Real, raw dark chocolate is today being heralded as a health food. Cocoa in moderation has inflammation fighting and anti-clotting – blood thinning properties. Thus it can help reduce the risk of heart disease, lower blood pressure and 'bad 'LDL' cholesterol.
Normally I have to avoid chocolate due to dairy causing inflammation in my body and aggravating my acne. This makes me sad as Cowboy can eat a big bar in one sitting post dinner on the sofa! I used to work in a sweet shop every Saturday for six years from the age of 13 so sweets and chocolates where a big part of my life back then.
Finding a delicious Organic, Craft, Vegan, Gluten Free, Dairy Free, Soy Free and Wheat Free brand of chocolate has been, in the past, tricky -until now.
OCTO Artisan Chocolates have crafted the perfect range for my dietary needs and 90% of all my clients – what a result. They are even Lecithin Free too. Some of the more commonly recognized side effects associated with consuming soy lecithin in particular, are issues like bloating, diarrhoea, mild skin rashes, nausea and stomach pain.
The sweetener OCTO use is Organic Coconut Blossom Nectar, which as a Health and Wellness Advisor I allow my clients to use and eat as a treat. Eating too much sugar, in any form, is not a good idea, and coconut sugar, calorie for calorie, is the same as regular granulated sugar. Regardless, it's definitely the better choice if you're looking for a healthier alternative sweetener. Regular sugar has zero goodness all together compared to coconut blossom nectar which does have trace elements such as iron, potassium, zinc, calcium, antioxidants, some short-chain fatty acids, polyphenols and a pre-biotic fibre known as inulin. As a result it has the health benefits of restoring good bacteria in the gut and the inulin slows down the body's response to glucose therefore making it suitable for diabetics to use.
So we have established that OCTO is definitely no ordinary brand of chocolate. As well as all those fabulous health USPs, they also care about the planet. OCTO only use high quality cocoa beans exclusively sourced from Ecological farms.
All this greatness. …Does it translate into their packaging and their products' taste…Let us find out…..
REVIEWING PRODUCTS:
Brazil Nuts coated in Raw Chocolate with Coconut Water – box
Dates coated in Raw Chocolate 65% – box
White Bar with Pistachios and Salt
White Bar with Ceylon Cinnamon
OCTO packaging is so sophisticated and well designed. It oozes elegance, style, quality and exclusivity. Textured black and gold for raw chocolate products, then white and gold, when the chocolate is mixed with coconut milk or coconut water.
Each wrapper and box is handmade with superior attention to detail. Even the expiry date is hand written on the back in gold pen.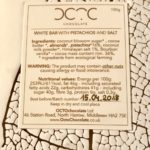 The bar boxes open like the front cover of a book.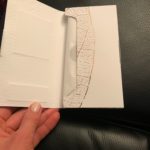 There is a crisp ivory paper exterior to the bar wrapped in silver foil with an OCTO Chocolate Handmade sticker for the seal. The rustle upon opening, for me, conjured up memories of the movie Willy Wonker and the Chocolate Factory when Charlie found the Golden Ticket in his bar of chocolate! I felt so special and lucky with anticipation of how the chocolate would taste.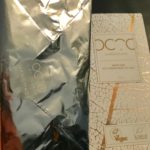 The boxes of premium nuts and fruits covered in chocolate open from the top. You pull out a silver or brown foil bag with a sticker on it showing an image of what product is inside – such as the cashew one here.
Every product is super well sealed for freshness and it really feels like a treat or special occasion to tuck into OCTO Chocolates…authentically handmade with love from bean to bar. Hence they would make lovely gifts especially this time of year being more special than the average bar you get in the health food store.
Now for best bit – aroma, colour, flavour and texture in the mouth.
Brazil Nuts coated in Raw Chocolate with Coconut Water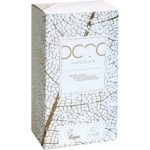 These remind me of my Grandma, God rest her soul – she loved Just Brazils. I am a huge fan of Brazil Nuts too. They are hands down the best Selenium food source in the world; great for fighting inflammation, increasing immunity and maintaining a healthy metabolism in the body.
These are good-sized nuts covered in a generous coating of OCTO chocolate – the aroma is subtle with a hint of vanilla. It smells milkier than the others considering there is no milk inside – perhaps that is from the organic freeze-dried coconut water. Firm to the bite you know you are entering into a superior Brazil Nut. It's a wonderful combination of nut and chocolate. Crunchy all the way through there is no creaminess.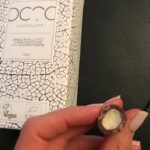 They taste to me like a well-balanced, satisfying healthy snack. I loved them and would be happy to make them one of my 5 a day! You wouldn't eat the whole box in one go rather one or two in the afternoon or after dinner. You don't get that common 'chocolate coma' feeling afterwards rather a burst of energy and pick me up. These are perfect if you are not a big fan of rich dark chocolate and have a palate more for traditional milk.
Dates coated in Raw Chocolate 65% – box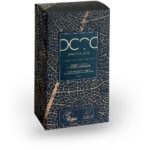 Growing up in the Middle East I adore Dates. High in fibre, vitamins and minerals they have been proven to relieve constipation, boost bone health and decrease cholesterol. Dates are a very common natural sweetener used in healthy bars, recipes and desserts these days giving that natural energy boost.
These smell intensely dark and rich. Their flavour matches perfectly being rather earthy. You have to take a whole one in your mouth at once as the chocolate around the date crumbles if you don't. Don't want to get messy! The centre is true date…plump and moorish, rather chewy but soft with a hint of honey. All together they have a wonderful bittersweet contrast that is irresistible.
White Bar with Pistachios and Salt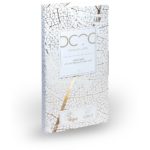 Pistachios are a great source of Vitamin B6 to help boost energy levels, improve eye and skin health as well as contribute to a healthy metabolism. Loaded with good fats they contain zero trans fat or cholesterol and have been proven to help people deal with diabetes, controlling blood sugar levels and inflammation markers in the body.
This is a very pleasing bar to the eye as the pistachios can be seen partially imbedded within the gold coloured chocolate….stunning. It has no real aroma but the taste is smooth, light and milky with the occasional crunchiness of the pistachios sprinkled in salt. OCTO actually grind organic Almonds with the coconut blossom sugar and coconut powder to achieve this unique sultry taste.
White Bar with Ceylon Cinnamon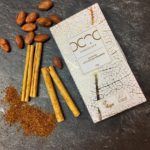 Organic Ceylon Cinnamon is considered 'Real' cinnamon. It is more expensive, harder to find and comes from a plant named 'cinnamomum zeylanicum' in Sri Lanka. This shows OTCO again using only the finest ingredients possible in their products. Cinnamon is a powerful spice, which has been used around the world medicinally for thousands of years. It ranks number one in terms of healthy beneficial spices. Some of these benefits include being anti-inflammatory, anti-diabetic, anti-microbial, antioxidant loaded, immunity boosting plus protective against cancer and heart disease.
The smell of this bar takes me straight to Dubai and the souks where they have all the fresh spices on show. Completely hypnotic to my senses the dark gold bar snaps wonderfully when I break it. It luxuriously melts in the mouth and the spiciness is perfectly balanced not to overpower. It actually intensifies the more it melts. Utterly divine, rich and buttery the taste is definitely my favourite.
I still find it hard to believe that such delicious chocolates are so healthy and within my nutrition boundaries. What an absolute find and huge congratulations to OCTO for creating such a unique artisan range. Everything about the brand and chocolate is imaginative, exclusive and hand crafted with so much loved and attention to detail.

My favourite OCTO products can also be found in PureJo SHOP.