GET INTO YOUR BLUE ZONE!
BLUE ZONE COMMUNITIES
I don't know about you but I want to live a long, happy, healthy life – be a mother, be a grandmother keeping my mind and body in the best shape possible.
Researcher and writer Dan Buettner wrote the best-selling book 'THE BLUE ZONES' studying people who have and are most likely to live past their 100th birthday.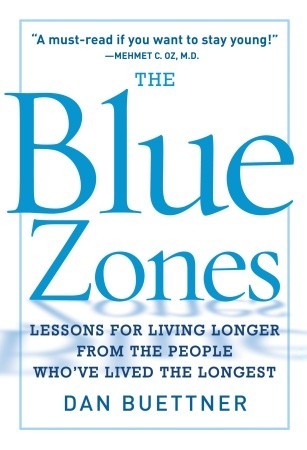 These people live in the below 4 areas of the world:
1) SARDINIA – OKINAWA – Italy
2) GREECE – IKARAS
3) COSTA RICA – NICOYA
4) CALIFORNIA – LOMA LINDA Community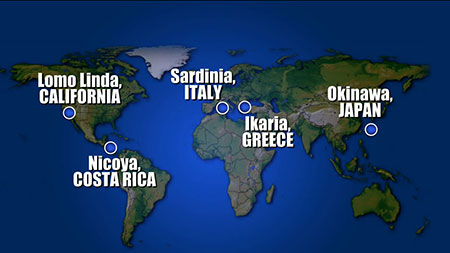 Common criteria despite being from various areas of the world, different races, nationalities and religions are:
Plant based diets with little or no processed food – mostly home grown – nutrient dense. Small amounts of animal protein also feature.
Consistent moderate physical exercise daily
Purpose in life
Sense of community and family values prioritized – no obsession with social media, no cosmetic surgery, no anti-aging medicines or gene therapy.
Good regular sleep
Moderate calorie intake
Moderate alcohol intake esp. wine
Stress reduction
The only countries that have an average lifespan of over 80 years are
Switzerland
Norway
Iceland
Sweden
Japan
Spain
Australia
UK = 79.3
USA = 76 years and 23rd in place
Reasons for this – high rates of chronic diseases many of which are preventable with natural lifestyle changes.
Over 50% of people in the West are on 'POLYPHARMACY' – using four or more prescribed medicines. These only treat the symptoms don't heal the cause. So the conditions worsen, so they take more drugs to treat the related conditions and side effects – a down ward health spiral.
Humans have an exquisite capacity to SELF HEAL we just need the right environment to allow this to happen.
I think we can learn a lot from these Blue Zone communities – I know I try to switch off from technology sometimes and be in the present with family, friends and I love being in the sea with the fishes!
SO HOW TO BE MORE BLUE!….
EAT MORE – veggies / fruits / herbs / nuts and seeds / quality fats / organic produce / fermented foods / smaller amount of meat but only of good quality
Creating less inflammation in our body.
AVOID – processed foods / Packaged foods / high sugar foods / artificial ingredients / refined carbs / stress / over eating
SPEND MORE time with family and friends and be in nature more.
Will reduce your stress levels and strengthen family bonds – LOVE
BE WITH people that interest you and support you – create your own community with the same values as you have then you will keep stress low and be happier
SLEEP MORE keeping your hunger pangs, hormones and fat storage in control – 8 hours if optimium
EXERCISE MORE doing things you enjoy – Blue Zone people are top athletes or gyming it body builders or marathon runners – they walk regularly, maybe cycle, practice yoga, do sports with friends, garden and they love it.
KNOW YOUR PURPOSE – know and appreciate you reason for waking up in the morning…one of mine is this – PUREJO – to help you be your most Brilliant