I wanted to make something special for Cowboy for Valentine's Day so this was my pick! It is super quick and easy with a few nutrient-dense ingredients. So you can whip it up in no time and impress your loved one or guests with a delicious raw, vegan, dairy-free, gluten-free, sugar-free, organic, grain-free, activated, soy-free, yeast-free cake.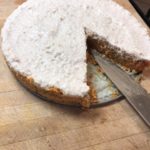 CAKE:
MACADAMIA CREAM FROSTING:
115g Organic Macadamia Nuts (activated over night) (you can use cashews if you rather and recently I have found pine nuts work a treat!)
1 tbsp. Coconut oil melted and cooled
2 tbsp. liquid stevia
1 tsp. lemon juice freshly squeezed
1tsp. apple cider vinegar
1/4 tsp. sea salt
PREP:
If you have nuts that are not already activated then the night before you need to activate them. This means placing them in a large bowl with lots of quality water and a few pinches of Pink Himalayan Salt. Stir and then leave them covered with a muslim cloth or something similar overnight. In the morning you will notice a big difference to the nuts – they will seem larger, blanched looking and the water dirty from all the phytic acid. Now your nuts are activated, which means their nutrient value has been increased as their enzymes are more readily available for absorption. Plus the problematic compounds have been broken down and the nuts are easier to digest and assimilate in the body.
See my two videos here of exactly how to activate your nuts 1 & 2
CAKE: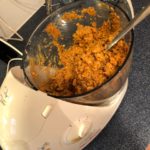 Add all ingredients to a food processor and pulse until dough is formed.
Grease a baking tin with coconut oil and press the dough down into the tin.
Pop into the freezer and make the frosting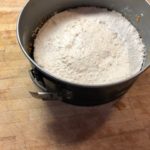 FROSTING:
Add all ingredients to a food processor and pulse until creamy
Spread over the top of the cake.
Pop back into freezer for 30 mins then slice and eat!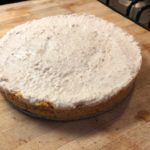 Enjoy x